Podcast: Play in new window | Download (Duration: 33:11 — 30.6MB)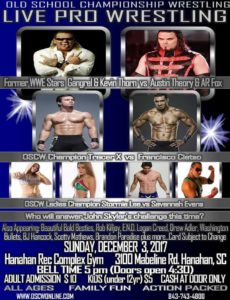 Yesterday my son and I took a 3 and a half hour(one way) road trip to Old School Championship Wrestling in Hanahan, South Carolina.  I made this trip because OSCW was the only major promotion in the state that I had not seen live.  It was well worth the trip.  On this episode I talk about the show itself and some of the guys you need to keep your eyes on in the Carolinas.  I also discuss the state of indy wrestling in South Carolina, the Wrestleforce Radio Network, Boomer Payne's interview about the Sons of Steel not being named finalists for Tag Team of the year in the Carolinas, Anthony Henry's 2017, and some future things for the podcast and website to keep your eyes on.
Thanks to soscustomtees.com for the awesome Unbookables shirt.  You can get your Battlezone DVD's and tickets at that site as well.
Subscribe to The Double Dropkick Show on iTunes
Subscribe to The Double Dropkick Show on Google Play
Follow us on Twitter @heathmullikin and @theddkshow.
Join our Facebook Group, The Wrestling You Grew Up With.
Become a Patron and get some great content and rewards at Patreon.
We would also appreciate if you took a moment to Like our Facebook Page, and leave us a rating and review on iTunes.
Get a month's free podcast hosting at Blubrry.
Try Amazon Prime 30-Day Free Trial
Try Audible and Get Two Free Audiobooks
Get a great deal on razors from Dollar Shave Club.
Heath and Mark use the Audio Technica Broadcast Stereo Headset for podcasting and wrestling commentary at live shows.
Subscribe to
The Double Dropkick Show
Or subscribe with your favorite app by using the address below