Podcast: Play in new window | Download (Duration: 44:01 — 40.5MB)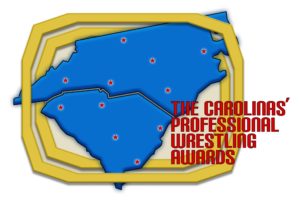 I apologize for the technical difficulties we encountered in this episode.
Robert Truesdale, aka Redbeard, joins me again to announce the winners of the Carolinas' Professional Wrestling Awards.  Mark and I recently discussed why The Sons of Steel were our nominees for tag team of the year.  The awards have garnered a lot of attention this year.  On this episode we also talk about the results from Rich Promotion's Twas the Fight Before Christmas where a new East Coast Championship Wrestling Heavyweight Champion was crowned plus the upcoming shows at Chester APW, the EWF Christmas Show in Mooresboro, NC, and Palmetto Championship Wrestling's Collision in the Castle on December 29th. Make sure to check out our events and results pages to keep up with all of the action.
Right now the Tommy Wildfire Rich School of Wrestling is offering an enrollment special. For a year membership it's $1,500, $500 down and $100 for 10 months afterwards. Classes are Sunday through Wednesday from 6 p.m. to 9 p.m. The school is located in the X Gym Sports Mall at 568 George Bishop Parkway, Myrtle Beach, SC 29579. The school's phone number is 843-691-9205.
Follow Redbeard on:
https://twitter.com/rasslinredbeard
https://www.facebook.com/RasslinWithRedbeard/?fref=ts
https://www.facebook.com/groups/CarolinasProWrestlingAwards/permalink/1802826096642354/
Don't forget to support our sponsor and buy a Double Dropkick Show shirt at SOS Custom Tees!
Follow us on Twitter @heathmullikin and @theddkshow.
Join our Facebook Group, The Wrestling You Grew Up With.
Become a Patron and get some great content and rewards at Patreon.
We would also appreciate if you took a moment to Like our Facebook Page, and leave us a rating and review on iTunes.
Get a month's free podcast hosting at Blubrry.
Try Amazon Prime 30-Day Free Trial
Try Audible and Get Two Free Audiobooks
Get a great deal on razors from Dollar Shave Club.
Heath and Mark use the Audio Technica Broadcast Stereo Headset for podcasting and wrestling commentary at live shows.
Subscribe to
The Double Dropkick Show
Or subscribe with your favorite app by using the address below